There is still a good 6 weeks left of summer and plenty of things to do right here in your own backyard. Afterall, communities retain a competitive advantage by creating healthier, more vibrant communities where families want to live and companies want to do business. No wonder the City of Peabody has been named in 2015 as a Most Playful City USA for the third time.
1.
Attend a Free Summer Concert.
The City plays host to a free summer concert on Sunday nights from 6-8pm on Leather City Common (Lowell St) and The Peabody Institute Library also offers a summer concert series at East End Veterans Memorial Park (Walnut St) on Thursdays from 7-8pm
2.
Golf at The Meadow.
This18-hole regulation length public golf course is situated on 259 acres with rolling terrain and various elevation changes. It offers big greens, great fun, and a challenge for golfers of all skill levels. 80 Granite Street
3.
Walk/Ride the Independence Greenway Bike Trail.
8 miles of trail in three disconnected segments passes by wetlands and ponds that are home to herons, swans, and other wildlife. follows the abandoned railroad lines at Russell Street near the Middleton town line and continues east towards Route 1 ending at the Northshore Mall. Open year round from dawn to dusk and connects to the south end of the Danvers Rail Trail
4.
Visit Brooksby Farm.
A 275 acre working farm and conservation area. Visitors can pick peaches in August and apples in September, visit the petting zoo, browse the farm stand, hike or cross-country ski on the many trails on the property. Footpaths and trails wind through ancient houses, huge red barns and 65 acres of orchards. The farmstand offers a large variety of fruits, vegetables, plants, eggs and other novelties. 38 Felton St.
5.
Play Disc Golf.
Grab your frisbee and play this incredibly popular game which is essentially the same as ball golf, except that instead of hitting a ball into a hole with a club, you're throwing a disc (frisbee) into a basket. The course is a technical, beginner-friendly design that caters to the largest demographic of users — newcomers to the sport and recreational level players — while still appealing to advanced players by providing a variety of required shots. Entrance located at 100 Summit Street.
6.
Franklin & South Manchester Railroad
. Perhaps the world's most famous scale model railroad and considered to be one of the most detailed in the world. The F&SM railroad is a large diorama occupying a space measuring approximately 1,600 square feet located in the main show room of Fine Scale Miniatures in downtown Peabody, Massachusetts. Open to the public one Saturday each month - next one is August 15th. Fine Scale Miniatures, 49 Main Street, 2nd floor.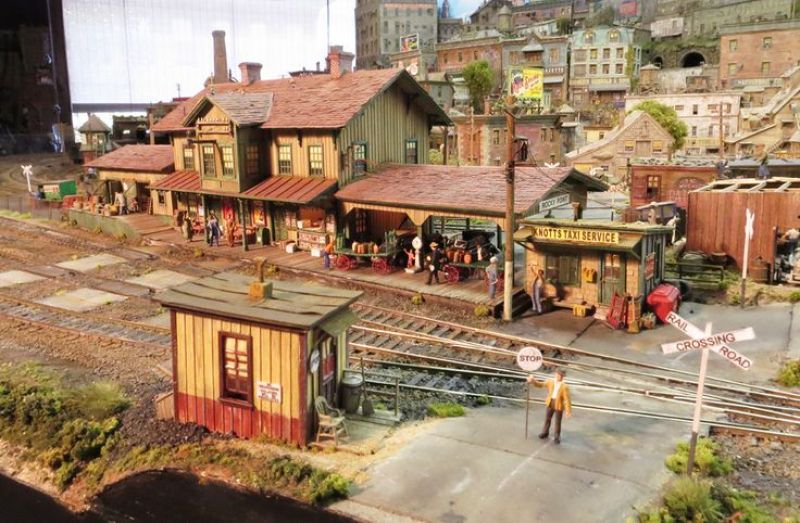 7.
Stop by the Farmer's Market.
Now in it's 13th year, the market is open 1-6p in front of City Hall every Tuesday through early October. Pick up fruits, veggies, honey, wine, dried fruit, organic bread, handmade jewelry and more from local farms and vendors on the north shore. 24 Lowell St.
8.
Attend an ArcWorks Exhibit.
ArcWorks is an inclusive art center, serving artists and viewers of all talents, skills, interests and backgrounds. Visit the Dog Days of Summer exhibit through August 15th, or Surrealities on display from August 27th-October 10th. 22 Foster Street.
9.
Get Inspired at the Creativity Lab.
A community makers space located at the Peabody Institute Libary, it's mission is to provide the place, tools and learning opportunities you need to become an inspired creator of art, technology, science and fabrication. The Lab houses tools for: 3D fabrication (including two 3D printers), sound recording, computer programming, graphic design, woodworking, jewelry making, electronics, and sewing. 82 Main St./Lower Level
10.
Get Stoked at Tanner Skate Park.
Hang with the skaters or pull off a sick trick of your own. The park is built west coast style; meaning that it's basically a large concrete bowl with 6-7 feet high banked walls fitted with round metal copings. Because of its individuality, it is like nothing else in the area, which makes it worth visiting. 44 Park Ave.
So, how did we do? Did we miss anything? Next week look for our list of 10 Things to See in Peabody.